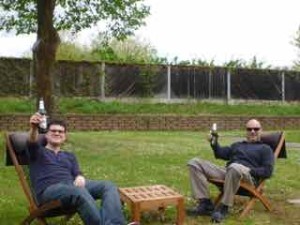 … the arrival beer is best!
We set off Saturday, 6.00 pm for Klagenfurt in Austria. No need for a 1.000 Km drive on a single day. Going for 300 kilometres, then a night-over on a rest station alongside the motorway. It was my first night in Hubert again and it is nice being "back home". The feeling of genuine freedom kicks in again.
But watch out where you place your mobile home: next to a cooling truck can be awkward due to his engine starting off every 20 m minutes for cooling the cargo.
We slept for 6 hours and then started our journey at 6.00 am again. Final destination for the day: Klagenfurt.
A split of the journey has the advantage you do not lose time for breakfast at home, this and that, then going for 1.000 kilometres in a single stretch. You can hit the road in a relaxed way and just cruise for a few hours along the empty roads of a Saturday evening. Next morning you just wake up and set off again. No wasted time and a good share of the distance.
On a Sunday morning 6.00 is it the same situation on the roads: just empty and easy and no jams around. You just avoid the big rush on the road.
We arrived 2.30 pm … and have a beer at first! The first of many this evening …