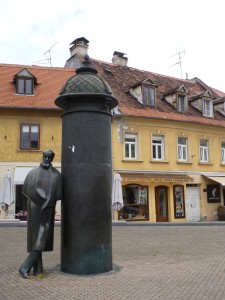 The good thing with my current activity is the combination of professional and private travelling. I visit customers and have the opportunity to check out the places privately. Not always as much time as needed and wish to have, but I have the chance to see a little at least.
Camp Zagreb is really good. Nice setting with mountains around and a nearby lake.
As for the town Zagreb I had rather little time for private excursions. Each morning started with a jog around the lake and that really freshens up! Then off into town and passing a handful of meetings. If I had a hotel room or camping in the city centre I would have put up the effort to stroll around town, but the camping is about 15 km outside town, so quite a challenge to get yourself motivated after a hard day's work to go into town.
I could have gone by bicycle, but with my morning jog my daily portion of sport had been served. Two days I hung out alone enjoying an easy evening. I had planned a day trip into town for Saturday, but then on a short notice I had the chance to organise two meetings in the afternoon and they both were quite important.
With two days full of meetings I had the possibility to crisscross the town several times and to gain a first impression of it. It is in fact a town as any other. Old buildings in Haussmann style, a river, parks and the usual stuff. I suppose if I had a more intense impression when cruising around by taxi I would have gone Saturday morning for a few hours before the meetings, but I have learnt to follow my gut feeling. And if it says 'hang our here and wait for being picked up and to go to your meetings', then do it!
Sunday morning though then I really wanted to go. Not going at all is no option. Despite cloudy weather and with my climate experience from Balaton in mind I went and was proven right: don't miss the chance going, even if only for a few hours, but sometimes these couple of hours are simply enough. I passed through the centre, had a breakfast at the other side of town and then went back again. Of course there are many more things to see and no offence to the Croats, but I am blessed with so many things to see, if for once I keep it limited, so it shall be.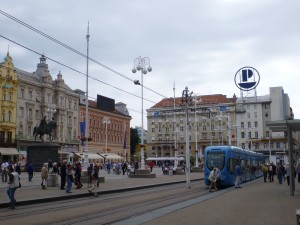 I preferred to go back to the camp site and have another jog. The weather had turned for much better anyway.
Daniel my taxi-driver though is my main memory of Zagreb. Very pleasant and German speaking guy. We both enjoyed each other's company for three days. His five minutes of fame were when I spoke to a colleague to arrange a meeting with a specific company I heard, which is important here on the market. Once I finished the call he turned around and said he knew somebody there.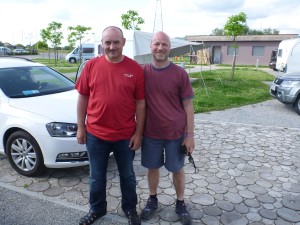 This somebody was nobody less than the owner and it is one of the most important companies to deal with in Zagreb. The Saturday meeting with this company is more important than cruising around town with a bicycle and see, what you are not really up to see anyhow. What a chance! Obviously I gave him a nice tip apart from him being the happiest taxi driver of the last three days in Zagreb.
As usual I booked him for the whole time and he made me see parts of the town I would not have seen otherwise and on my own. Breakfast here, lunch there … really nice!
I also met a good old friend back again. I was looking three weeks for him and could not find him but was stubbornly continuing to speak to people about him. Eventually I found him again. What a revival of our relationship!
Zagreb will be a commercial success, but I can not really tell anything about it's historic monuments, hip parts or the such like. But for various other reasons I really appreciated the time spent here.