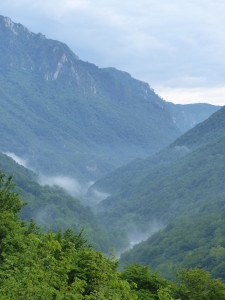 After having left Zagreb and Sarajevo the journey went southwards into completely unknown territory. If I was full of respect last year when approaching Kosovo, it was almost worse when going towards Tirana.
The way towards Montenegro if following navigation set to "shortest way" it leads you right into the mountains. But seriously right into it. Most of the Balkans would choose another way, but I did not want to venture on my own guided by a map.
You trail along a country road where 2 cars in opposite direction can hardly pass each other. Hubert, a 7,5 ton vehicle, was technically admitted, but only with a maximum length of 8 metres. I considered the distance between both axes was meant, so we qualified to pass. This road though was a real adventure and felt like South America.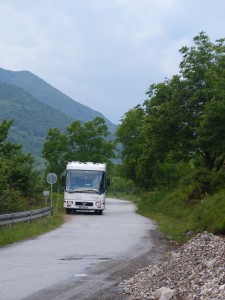 What a sight! Mountains, gorges, rivers, forests and sprinkled habitation. It was worth all the effort! You have to take this route if going southern direction from here. Despite being full of respect, it was really worth it all the effort. The main consequence though is Hubert is dirty as hell. Road-works were all over and the country road turned into a muddy trail for about 15 kilometres. But I can only advise everybody to take the route via Foca – breath-taking mountain sceneries!
The bridge at the border crossing into Monte Negro looks a bit wimpy, but it all went well. Once into Montenegro it goes downhill following the river and it is just very very beautiful. A break in Podgorica where we arrived at night. We did not see very much of it. Next morning though my impression was of a city as any in the east. At least when you pass through on main road.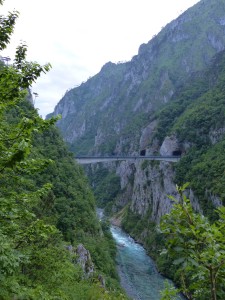 The landscape flattens out the more you approach the border to Albania, and Albania is a real discovery. Whatever you think of Albanians, here in Albania I felt instantly at home. The streets are full of life everywhere, people cruising around wherever you are and Albania is provingly the country with most Mercedes Benz per capita.
Tirana is a city that vibrates, it buzzes – amazing! I was prepared for a complete different setting, but I saw a most impressive and comfortable way of life. Busy people everywhere, lots of cafes full of people consuming drinks and food. Nobody took notice of rich EU-citizens and everybody minded his own business. Very nice. Through my contacts I was told corruption is evident and contacts more than helpful to any success, but isn't that the case everywhere? Even if only for 6 hours, Albania has found a fan in me.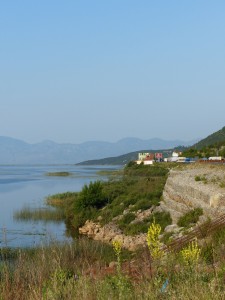 Then off to Skopje. For a second time in 8 months. Parking as usual at the zoo, where parking is for free. Reception by Zlatko, a good friend. It was not as buzzing as in Tirana but basically same setting. I had the impression though the countryside is a bit more spoiled by construction waste and lots of plastic. That had not been the case in Albania.
I was stopped in Macedonia by police because I went 11 kmh quicker than allowed. Got a verbal warning and let off. Nice. In Bosnia on the contrary I was dodged by a little motorcycle cruising with minimal speed in front of me forcing me to overtake where overtaking was not allowed. Stopped by the police and going through the whole procedure I paid my fine of 50€ and could continue. But not without the warning if I made another error my driving licence would be taken away. And I am sure, it was a co-operation between the chaps on the motorcycle and the police officers. What a scam!
In Skopje I had 4 meetings and people are very hospitable. Not only was I greeted everywhere very nicely, got also an invitation for lunch and each company I met brought me themselves to the next meeting. Which is potentially their competitor. You may say they wanted to know where I went, but I had told them already anyway. So that was dearly meant nicely!
Unfortunately I stayed a day in each country only. But what impression and experiences I was able and allowed to make. I have put these three countries on my list of destinations definitely to go soon!
Montenegro – check the mountains at the border to Bosnia!
Albania – dive into town and enjoy life on the street
Macedonia – go into main street opposite the zoo and check the bars a hundreds yards further into it.