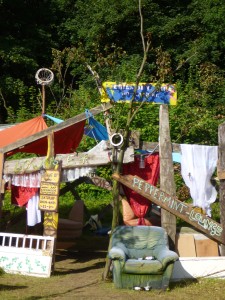 For the first time in it's 20 years of existence I did not attend Fusion this year. Instead I was looking for an alternative and went to Landgang: a small, nice, cosy and family-like festival in the north of Mecklenburg-West Pomerania.
It was a quite frustrating decision: no Fusion this year! It just did not fit into my timely planning. Plus Hubert was not ready yet. So I had to give it a miss. No easy decision, as Fusion is part of my existence. However, during the last two year's events me attending I had the impression Fusion turned more and more business-oriented. And more and more people gave me the impression, in fact this is not their place to be. I think, they should rather go to festivals such as Hurricane or similar.
But it remained a difficult decision, as attending Fusion is a tradition to me. In addition to this I knew next year there won't be Fusion, as the organisers have to think thoroughly where they want to go with it. Hence a break of three years. Let's see where I will go for in 2018. Me definitely up for it. But I agree, Fusion has to change. Thinking over it and sparing the event next year makes definitely sense. Especially when the organizers intend the Fusion to be different and not entering the mainstream all other festivals are going along with.
So, with Hubert being ready a week late and having gone through MOT and all, I went towards Greifswald and luckily right alongside this route friends of mine organised the "Landgang 2016", a festival being held for a couple of years now. Intention: to break even financially. No profit wanted. Heading for Greifswald on A20, turn off Schöneberg, go direction Kalkhorst, turn right at church direction Rankendorf. Right in the forest turn left along a trodden path until you reach a clearing. You have reached destination.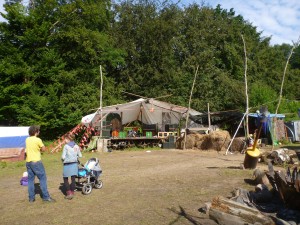 One live stage, a little techno stage, a place for DJ's, a circus tent for whatever, a restaurant, a bar, three loos and around 300-400 people. Nice. Very unorthodox, non-profit idea behind (same as Fusion has) and seriously laid-back atmosphere. This is what the festivals were on about at the end of the nineties, before they all turned commercial and being sponsored by Becks, Marlboro or any other.
No queues at the bar, neither at the restaurant. That's what I like. Reasonable pricing and at the bar always a good mood: big laugh, chilling, just relaxation.
When arriving Saturday afternoon just about 100 people were present, but the later the evening, the more people arrived. Music started at around 6:00 pm and went on until early morning, when a DJ then took over and went on until midday. As usual, me an early morning bird, I went to bed at 1:00 am for being up again around 7:00 for going back to the action place. I prefer mornings to night, as you see more and people are just more relaxed. Though wondering if their personality that moment is due to the time of the day or level of alcohol inside. In the end , no matter why, the atmosphere was just nice.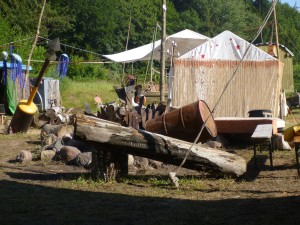 I had my coffee, enjoyed the place out in the Styx and just went along with it until more and more people came creating a good and chilling breakfast atmosphere. No stress, no panic, just chilling was the motto.
The live music was different band to band. From Hard-core punk via live techno to a mix of traditional trumpet with fun-crazy-hilarious-all-across-action on stage. Nice. People dancing, chatting, drinking. The must-have main idea behind such a festival. And when being here it reminded me of all the festivals I went to in the nineties: they all started small, hidden and as a word-to-mouth event. Eventually turning out big and losing their in-depth sense of existence, but this is what they were at when in their early stages.
So hopefully this Landgang will be as successful as the others, well, at least to break even, but as I know the organisers, the idea behind is not to copy-paste the big shots of the scene, but to turn towards 4.-5.000 attendees, break even and provide a nice moment for those taking part in it.
I wish them the best!