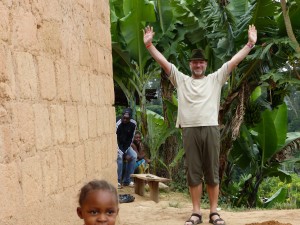 Again I went to Kenya. The idea was to check current ongoing and the status of a couple of projects me running there. But also to renovate the farm-house of a friend and initiate a couple of new ideas. What I have found out is Africa is a bucket with holes: you pour and pour and pour, but it will never be full.
As you may be aware, I have been following a few kind of charity projects. The idea is to give hope and the possibility, say kick-start, for future prosperity. I do not expect anything in return, just if concerned people were prospering, that would be best possible recompense.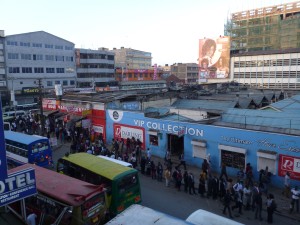 The projects I have been following for over 10 years now. People and relationships have turned into friendships. I like them dearly though I admit, the kind of friendship is seriously different to friendships based on western-style principles and ideas. Main aspect for them is basically fighting for survival. Us instead are yearning for social contacts, appreciation and self-esteem. Our general way of acting is varying strongly depending on which Maslow-level you find yourself.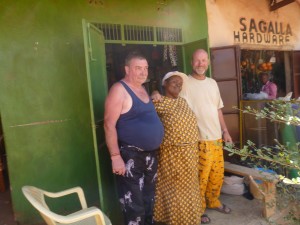 Ongoing projects were financing a school degree for a couple of youngsters, building a grinding mill for wheat and maze, now even paying the university degree of one of the youngsters above. I have done a few things on the spot such as little house repairs, my wardrobe is full of customized clothes from a tailor made next village, plus bits'n bops here and there. To top it all up I regularly transfer lump-sums for supporting daily life, enabling a merry Christmas … or just for partying!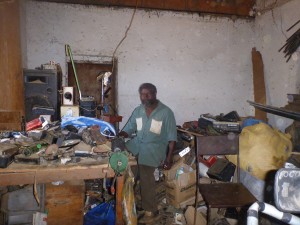 The idea this time was to go and check the overall situation, if and how my transferred funds have actually had any impact of life and what kind of impact or changes these were. I had planned to renovate the farmhouse of a friend and turn it into something capable to weather any local climate condition. Main building material is clay, sand and some little cement. Clay and sand you literally find in the backyard, just the cement needs to be bought. So apart from the work itself not much of an invest.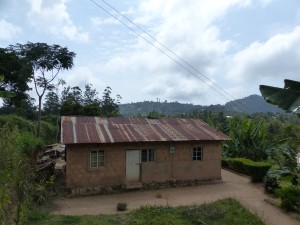 Individual finances lack to properly build. But even if at hand, the knowledge and skills were not given for professionally and efficiently build. So Jürgen and me went down to Wundanyi. Jürgen is a specialist in clay works. He always dreamt of visiting Kenya but never had the time, the cash or the combination of the same at the same moment in life for doing so. He actually left Germany for the first time in life ever.
Our trip brought us first to Nairobi. The usual craze as ever. Next day local transport to Wundanyi. It is only 400 kilometers and you always wonder how it could possibly take 8 hours for such a little distance, but once on the road, checking the infrastructure and all those cruising around you soon understand: the road network is in a bad state and the traffic is chaotic, to say least. Uphill lorries struggling with 10 Mph, counter traffic with no sense of danger all contribute to us driving no more than an average of 30 Mph. You have to see and experience to understand.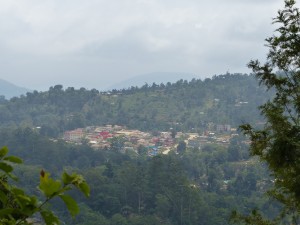 Arriving in Wundanyi was a surprise to everybody. We hadn't announced us coming so the surprise effect was perfect. Next day we instantly started preparation for the works. Buying the cement, sorting the clay and sand nearby. We organized two young boys we intended to show and teach how to handle this material. The idea was to put them in a position after we had left to continue working in masonry and to be able to continue working and earning money to support their families.
They picked up quickly and with our technique they will be able to propose their services, which will use only half of the material as it is normally used here. This should help them to get more and more orders and work in future.
The work of the house took five days and it was nicely done. We plastered and painted the outside walls and built an outside bench for the ladies to sit and chill. They were all happy and the young boys were duly trained for future works.
Additionally, we built a fireplace in our lodge. Until today they used to burn charcoal for heating up the water. Using firewood will be more efficient and cheaper, but the appropriate fireplace was missing. So we built such, also in perspective to show the young boys another technique in masonry.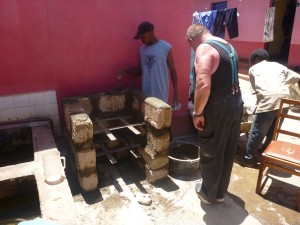 In order to show more masonry techniques we filled some cracks and wholes in floors and walls. As an add-on we decided to build a concrete tomb for Bedan, a very good friend of mine who died a couple of years ago. This makes me personally happy and proud to have done so. I duly paid may respect.
I have passed many unforgettable moments with Bedan and he was indeed my guardian angel in Wundanyi in the past. Don't underestimate the risk for a white to be here, in the middle of nowhere and far away from any tourist structure. Fellow tourists are a long way off Wundanyi. I love this place. Taita is a nice place to be, the people are friendly and if you know a few, they will show you around and fend off idlers. Their motivation is clear, but I accept this symbiosis as we all profit from it.
It was good for me being here. Not only to renovate the house, but to generally check the situation and to be able to help in a much better way later. But also to find, the way I helped makes people change, and this not necessarily for the better only. But we had the necessary discussions about it and remedy is taing place. I shall come back more regularly to Wundanyi.
The most important lesson I took is, that handing out the funds directly is no use. When renovating a house, pay the cement. If financing the education, pay directly to the organization. When wanting to help, pay the material and hand it out. Don't give the cash. It spoils the individual character.
Again, I understand all, survival has a different connotation here, but if you want to practically help, don't hand out cash directly. It is also important to not only help, but help to help themselves. Such help will support their own self-esteem, gives them pride and is much worth than any short-term help in cash, though most locals will argue differently. If you have the chance, try yourself. And you will see most you gave is being drunk the same evening. And this can not be the goal.
I have to admit, I had some unpleasant surprises, but I can not blame anybody. I will have to change the way my support was done, but even if disappointed, I won't stop. With as little as €10,– you can do freakily lots. And that is the point. Even if much is going down the drain for several reasons, still better to see laughing face if only for an hour before seeing them drunk in the gutter than never at all!
Despite all frustrations to deal with the African interpretation of concrete help, it is fun, I like these people lots and it is a mutually most rewarding feeling.