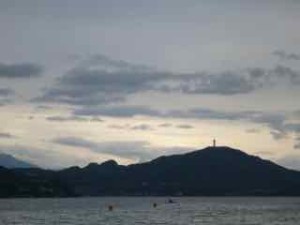 The arrival beer turned into a full swing party and a night ride on my bicycle. But luckily, …
…when having done such a ride as Cologne to Klagenfurt prior to starting to drink, you turn tired quickly. My condition fell apart around 10.00 pm.
However, when in Klagenfurt, check the local nut liqueur! Really tasty! Though we had some troubles finding our campsite again … not talking about our balance on the bicycle.
Having finished the day at 10.00 pm was the best decision. Because as we had enough sleep of almost 9 hours the hang-over was almost nil. Our initial plan at 7.00 pm the evening before for next morning was to wake up at 5.00 am and cycle around the Wörther See, but this plan was dumped due to … the evening before.
At 8.00 am we set off for the tour of the clients. One in Klagenfurt, one in Leibnitz and the last in Lietzen, before we cruised to our final destination of the day: St. Pölten.
Hubert is doing very well and just cruises along. I have the feeling when climbing mountains he does better than last year. But if that impression is due to my enthusiasm or other … who knows. Anyhow, he is doing well. Most amazing hies fuel consumption: 15 litres/100 km. For his size just nothing.
We went again for a camp-site. The fully blown version of staying on the road only will come soon! We are still in the starting period and allow ourselves to get into it step by step.