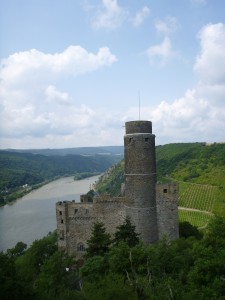 The Loreley, being one of the most famous places in Germany and known for old tales and 'Germanism' it was decided to spend some time there. The Rhine valley here is a UNESCO World Heritage Site and it is worth it.
Old castles all around, from being dilapidated down to the ground walls until fully refurbished . Most of them indeed being in multi-functional use, on top of little hills, snugglerd against stoney walls. Ruins, fully flagged, from small size to enormous. Just very romantic and you can image how times were, when these castles were in full and original use.
The river Rhine flows 40 miles through the valley and all together makes a very poetic impression. The countryside itself is rather hilly than rocky so the walking around is easy. You just have to go up from the valley where the main towns are up to the top, to the rim. But once there, trodden paths go from village to village and strolling around for the inexperienced is not difficult.
For being a tourist place rather than being the German industrial hotspot I was surprised about the unprofessional signposting of rural walking paths and cycling possibilities. Some paths were even overgrown with bad weed and stinging nettle. Awkward and silly. There is nothing else apart from restaurants serving local dishes and castles turned museums. Obviously, the wine industry is important, so you have to give it some time to check it out.
I spent my time on the campsite "Loreley" in St. Goar. It is well equipped. Large enough to always find a place, so an anticipated reservation is not necessary. For my taste they could build a few more facilities, as there are a bit too few for the size of the campsite, but nothing important. It went all well. You are just next to the river Rhine, which flows rather quick here.
Riverboats up the river have to fight hard going against and are slower than oneself on a bicycle, but going down, the going goes fast! The only real nuisance is the rail. On both sides of the river you have in intervals of a minute trains passing by. Even if on the other side: freight trains are as loud as you can imagine, and a cosy night is definitely over once you may have woken up.
So the Loreley is worth a stay for 3-4 nights, but either then you have seen it all (unless you are a medieval fanatic) or you are just bored of possible activities or annoyed by the honking boats and rocking trains.
But see the picture – you don't have to go far to see such landscape!