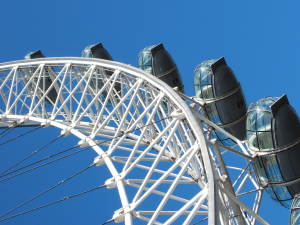 Many things have been written in and about London. London is omnipresent in all areas of life, politics and culture. Londoners say "the one who does not like London does not know London!" Some French instead stated "Si vous n'aimez pas la France, quittez la!" This is the self-explaining difference ho the Londoners consider themselves in pure reservation even though London is not England and France not Paris. But London is indeed one of my favourite metropolises, if not the most favourite!
London is everywhere and everybody knows it. Major political, social and cultural trends are started here before being spread out globally and the rest of the world doing the copycat. So what can be written about London without bragging about the all too obvious and common knowledge?
I was used to traffic noise as before I spent some years on Lange Reihe in Hamburg. For those who know, they know what I am talking about. But living on Vauxhall Bridge Road is one step ahead. Social housing turned private, 7th floor, a gorgeous view, and more central not possible. Late in the evening, open the windows, crushed into your bed and enjoy the street noise. I slept like a baby. This very moment I fell in love with London.
It is a privilege to be living in the centre, and more central than Pimlico would not have been possible. Victoria Train Station right next door, Buckingham Palace in a walking distance of 20 minutes, Westminster 30 and Covent Garden 45 minutes away. I remember the day I was able to claim "I am living in Westminster and am working in the City". What a moment in life!
You name the sight, I had the choice to go to from home. The view from my living room was right on Battersea Power Station. If most had to listen to 'Pigs', I was having it visually in front of me. Just imagine: the kitchen sink was right in place for that spectacular view. It was breath taking and I never had an argument over who was doing the washing up!
Almost every evening I strolled around town. From Tower Bridge to King's Road, from Regent's Park down to the Thames – I criss-crossed over the following years the entire area and should not have missed a single street and was fascinated with each and every corner I saw. I am not too much into going out in bars and restaurants (, unless …). They are everywhere the same.
The most common stroll was starting with Buckingham Palace, Trafalgar Square, Fleet Street and then via Covent Garden and Leicester Square back home. You see the main sights of London, for which people travel far just to see them once in their lifetime. But another thing was fiercely competing with this sightseeing round trip: sipping a tea in Victoria Train Station at 7:00 pm!
Why? The track network across the country is independently run from train operators. Victoria Train Station is a dead end station. 20-odd billboards are signposting, which train leaves when from which platform. During rush hour you have thousands of commuters waiting for the departure track to be announced. Timing is always the same, but the platform changes daily.
In a timely order the next departing trains are signed out. The question is, which is the concrete platform the train will leave from. It is announced 3-5 minutes prior to departure. So imagine the rush once it is announced from where the train will depart. And be sure: the train will not depart with a second in delay. Instantly hundreds rushing off. What a spectacle! Better than TV!
And there are quite a few spots in London, where you should simply sit down, lean back, relax, have a drink and observe life around you: King's Road on a Sunday afternoon. As if the whole world is here to show off. Soho on a weekday morning and everybody is ridiculously armoured with a uniform coffee-to-go! Camden town. Oxford Street and its commercial chaos. But what is the difference of these places compared to many others worldwide? If you hang out for 2 hours at any of these, the entire world you will have seen passed by. Any nationality, any colour, any style, anything. Just amazing! I believe only New York can offer such an atmosphere.
Another place you had to go was the dog-racing at Walthamstow. Royal Ascot for the folks. A separate entrance for the public and for the rich. Nicely segregated and no chance to mix. And 20 minutes prior to a race the thrill, the noise, the whole thing … just overwhelming. Until a couple of seconds before the race it seems calm and quiet. But then the last bets are placed and the whole public is rushing down to the racecourse and yelling out as soon as the dogs were let loose. Unfortunately Walthamstow is now closed, but I am sure you can find similar elsewhere today in London. One of the best places to see the real London.
There is so much to talk about, but I just want to add one more thing, the Thames path walk. At the time I was there, opposite the Parliament was a graffiti and I was surprised it stayed quite for a while: "We are the virus!" was written in large black letters on a white background. In full view of the parliament itself and they left it for quite a while.
The cosmopolitan character of London is something rarely to find in a city of that size. Go to Paris and you understand what I mean. Paris is strictly split in arrondissements housing its' specific folk; in London it is all mixed and messed up. This is something I appreciated most. You do not need to travel the world, the world is here.
The variety of different people, nationalities is mind boggling and somehow incomparable.
One thing to learn in London and England is you should never judge by the appearance of somebody. An anarchist can be quite royalist, as much as a banker can stand up for revolutionary ideas. None of which can be guessed when seeing any of them.
And this is the best – London and England is full of striking surprises all based on the best-implemented individualism worldwide!