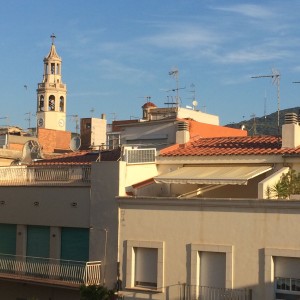 Spain is a destination for many as tourists. For me Spain has always been a destination for professional reasons.
Barcelona
A fascinating town. Composed by a multitude of different architectural styles wandering around town is a real pleasure. Not many cities seem so various in styles as Barcelona is. A cucumber-like skyscraper, the Sagrada Famiglia, Gaudi, Olympic rudiments, the beach in centre town and streets buzzing with people. It is amazing. And as fascinating as it is. stay for three days, take it in, then move on.
Premia de Mar
This is the place I have spent most of my time in Spain. Located 25 km north along the shore from Barcelona it is just a commuter's basis to many working in Barcelona, but very laid-back atmosphere. You have the beach, direct connection with public transport and all necessary facilities to survive without any outside supplies. But what a nightmare the infrastructure is. Disposing of a wonderful beach, how on earth can you spoil it with train tracks right between the beach and a three-line street and huge traffic? Crazy! There is a train rushing by every ten minutes and huge commuting traffic. And all of this right next to the beach. Relaxation is something else.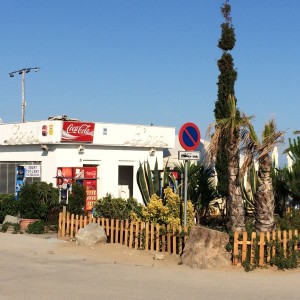 But when here, check the Hotel Premia de Mar (anyhow, it is the only hotel in town), have a dinner at L'Ona next to the Nautic Club of Premia, sip away a few beers at the beach bar where the yacht harbour exit is and finish the evening with best cocktails I ever had at Jesus' Cocteleria Bar, also right near the Nautic Club, basically opposite. Say hello from me! And the later the evening, the better is. Jesus is open as long as it needs to be!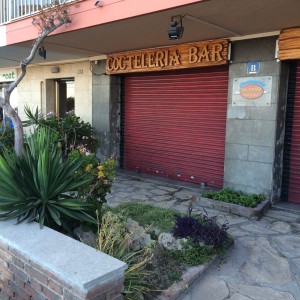 My trip went towards the south. First stop over at the Mar Men0r, Rather local tourism we found the seafront rather disappointing with few restaurants and hotels only, but maybe we did not check thoroughly enough. Eventually we ended up in Cartagena for the night instead of cruising around for hours at the seaside finding a suitable place for the night.
Cartagena
Surprisingly many young people. Is it due the town itself or because of the impressively big university? No idea, but there were many youngsters around late in the evening. Please check the Varadero restaurant for fish, though we were unlucky – it is closed on Mondays. What a shame, but it is supposedly the best place in town for fish. If you come from the city centre it is rather complicated to reach the place, as the old city-wall offers only few possibilities to pass through, but once got to the place you should enjoy, so I was said.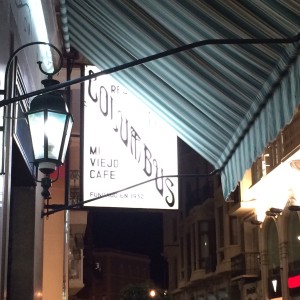 We decided to go into the pedestrian zone and had a dinner at the Columbus restaurant. Looks a bit simple, but the food was actually good. Gaspacho as supposed to be, nice salads, good beef and fish dishes. Small menu but what is on offer is enjoyable.
Next day we spent in Granada, the town of the Alhambra. Actually we did not have much time to walk around, so we decided to simply check into the Granada Centre hotel and have a dinner in the rooftop restaurant. From here you have a wonderful view over town, to the Alhambra and best place for the sunset. I just love the play of colours when the sun starts disappearing behind the horizon.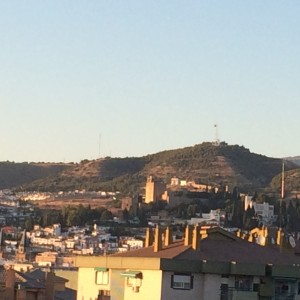 But don't expect too much when being on the countryside. Spain here is dry, hot and almost desert-like. Little fauna and much barren land. Opening the car window for a fresh breeze inside is no option.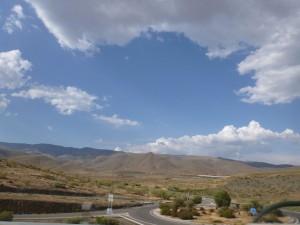 So, Spain has certainly much to offer, and cruising round the South has much to see, though it is a shame, I did not have too much time to really chill and enjoy. But the little I saw out of the car window when driving by or when sipping a drink is just amazing.