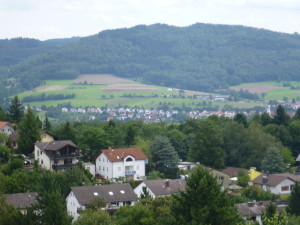 The Odenwald is a hilly area west of Frankfurt. I am much surprised that me, despite being on a longer break, I have no current urge to go far places but stay rather in close-by regions.
There is really not much to say about the Odenwald. Hills all over but no peaks to see. If you really want to cool down from work, staying here a day or a week will definitely get you down and out. There is no hectic and people are laid back. I was surprised to see so many old towns giving the impression of me being propelled a few centuries back. WWII has left no scars here.
We have stayed on the Nibelungen campsite in Fürth. Nicely equipped, very friendly people and the site is arranged in a way of smaller plots, so you have your own place which you have to share with a max of 6 parties.
I was surprised about the very bad signposting of walking trails and cycling paths. You cannot trust them. If you follow the signs you will find yourself in the middle of nowhere with a path-crossing and suddenly no more indication where and how to follow. That is a shame. The region promotes it's attractiveness for tourism, but doesn't offer accordingly, at least with regards to such activities.
At one stage we even went into a hiking loop. Either we were too dumb reading the signs properly or it was arranged by the local ice-cream shop. Signs sent us around in a circle which was supposedly the Nibelungen path getting you from A to B. Definitely not being sent around in a circle hike.
There are hardly any cycling roads next to the main road and hence cycling there is as awkward as in the Alps. It is quite dangerous, as you meander through the countryside and many vehicles cruising by having fun challenging their cars on these roads passing alleys, villages, curves all over and feeling like on a F1-race track.
On a regular distance of 16 miles but following the cycling path we had to go 10 miles more due to bad signposting, losing track and getting completely lost. But hey, enjoy the countryside, and it is ok. And being "off track" is definitely worth it, as the rural area here has got its charm
I spent a week there and liked the place, but wont go there again on a holiday, unless me getting fanatically into medieval architecture or hard-core mountain biking. But the Odenwald is always worth a stay for the weekend.