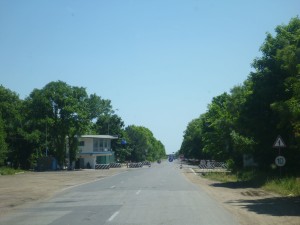 You may get bored with me yelling out "what a surprise!", but again, I have to say – Transnistria – what a surprise! Before I left Bucharest I had read an article headlined "Transnistria, the next war zone in Europe?". You can imagine how impressed and afraid I was of leaving there an hour later.In all respects, it is simply ridiculous. There is nothing to be afraid about. I now once and forever understand and will have to accept the media manipulation of our western world is as dumb and strong as in any other country. The people in Transnistria do not want war. They simply want to go on with their life. But please note all my time spent here was in Tiraspol only.
It is a given in this region, which is by the rest of the world apart from Russia not accepted as an independent nation, most of inhabitants are more or less Russian natives or people with Russian roots. It is also a given the major share of Moldovan industrial production was from Transnistrian territory, which is populated by Russian speaking people with Russian, Ukrainian and Moldovan origin.
My first encounter was a military outpost out in the nowhere, an arm and cigarette hanging out of check point waving me through before the proper border control. And if you thought to have all seen in bureaucracy, here you are taught other.
Registering the car and paying for the work, the registration and an insurance based on the value of your car (applicable for all foreign vehicles), then heading back to immigration with valid papers and get your permission to enter your country. Sound all very simple but took 2 hours indeed. Though in the end it is a simple line of bureaucratic procedure you have to go through one after another. First you have to find out and then just be patient at any step of immigration.
Then we were inside this sovereign no man's land and to our surprise we hardly saw any military and had no feeling of war mongering people around. On the contrary, our impression is of a country full of hope and prosperity! Wedding ceremonies, speed control and lots of young children. Would you have imagined? I did not.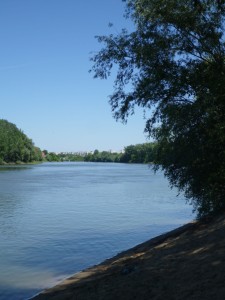 The population here is just leading their life. The main ethnical group feels and speaks Russian, but have not entered into any ethnical cleansing between Russian, Moldovans and Ukrainians. By law all ethnical groups shall have the same right to get education and a job. There is not VAT and income tax is low and simple. People here are proud being Transnistrian. An own currency (which seems to be one of the most stable currencies of the region) and all aspects and functionalities of a proper state are given.
However, if you are individually travelling, you have to register by the day with local authorities. It is a hard and fastidious task to perform, which otherwise is done through your hotel, but if you take it easy and knowing you have to do it and that it will pass anyway, just do it and enjoy bureaucratic bureaucracy. Finding the place to register is also a hard task. Hidden somewhere behind the bushes (literally) you may think this is a booth to the nearby parking, but not at all. Check at the main train station, they will tell you where to go.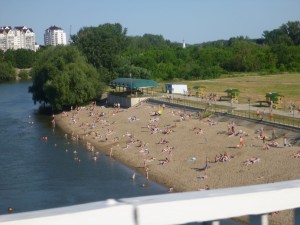 There is much life on the street in Tiraspol. People strolling around and sunbathing on the beach in centre town. Street passengers have priority, corruption is said to be low and this country is really full of hope. We were received by friends and they showed us their new office building and the building works it is going through. If they were up for war, you would not invest such amount!
This building could be anywhere in the industrialised world. But to top it all, we were given a visit to one of the largest sport complexes in the world. And it is actually used and most is for free to it's citizens. Amazing! I was stunned. I thought to be shot as soon as having crossed the border but instead were given protecting plastic thingies around our shoes when visiting the swimming pool of Olympic standard!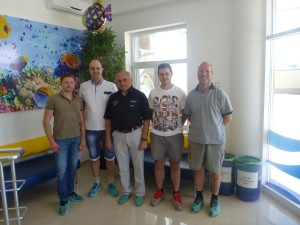 I was told, this could be the next war zone. I was expecting to go behind the front line – but it is not at all. It is one of the biggest surprises I have encountered!