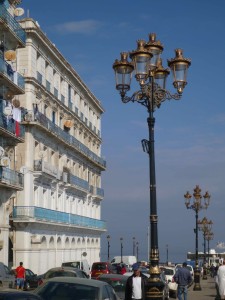 To Algeria I went first time ten years ago. Back then on my transit in Paris, I met an Algerian native. I asked him about his country as I was quite worried after stories abound about civil war, religious extremism and whatever else. But today Algeria is one of my favourite countries to go to!Since my first trip I have returned more than half a dozen of times, and the more often I am here, the more in love I fall with this country.
When you reach Algiers you see a town of concrete buildings 1970's style creeping up a hilly landscape. Immigration is bureaucratically much backward, despite a super modern airport terminal. The city centre is full of white buildings Haussmann style. They are quite picturesque with blue French-style balconies. Unfortunately the overall state of the buildings is deplorably worn down if not delapidated, but it is obvious, why Algiers is called "Alger la Blanche"!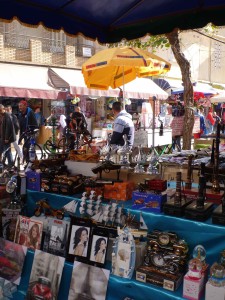 Obviously, amongst business partners hospitality is common sense all around the world, but here in Algeria this attitude towards strangers is in fact a behaviour practiced by each and everybody regardless his position or situation living in or under.
When walking through the city centre people leave you alone, which quite changes from Tunis and Casablanca. But when sitting down for a coffee you instantly get in touch with locals who are eager talking to you. There seems to be a feeling of pride with the people when being with them. And this goes beyond the feeling of national pride of "being Algerian".
Algeria has petro-Dollars flowing in in vast amounts and is not depending on any other. Hence tourism is poor if not not existing, education is free and available to all and social life on the street is laic – this counts at least for Algers and resembles life in Istanbul. Hence, and not as in neighbouring countries, as soon as they see blue-eyed blond-hair chaps, they don't jump on you, but await for an occasion to start talking to you. Same when looking for a cab. Whence elsewhere you have free choice between 10 cabs at your finger-point, here it is you who will have to qualify for being taken with.
And most people you communicate with really care about the Algerian image out in the world. When I tell them, Algeria is seriously one of my favourite countries, you see shining eyes and their personal request and wish is formulated, to promote this image abroad.
And hospitality is a serious common thing here. Simply be nice, and people invite you to anything you want without expecting anything in return. I have been eating, drinking, staying for free. I sometimes was greeted upon my arrival with my wallet being taken away and only given back, when checking in for departure. Crazy, wonderful, inexplicable. Once I was given 80 kilos of farewell presents. Can you imagine? 80 kilos!
Algiers is a Maghreb town as any other. Most chaotic traffic, highly pulsating street life and security at every street crossing. As there are no lights in Algiers police officers organize the transport everywhere, but during rush hour it will take you 2 hours to cross town. And I wonder about the overall amount of salaries for such a huge number of civil servants. Oil income helps.
Indeed, the country is very bureaucratic and more than half of commercial activity depends on the state. Most is traded under tenders, but if you are lucky and you know the right people it may help a lot.
I was lucky to meet highly positioned politicians and business leaders so it is clear to me, that connections and relationships are vital to any of your efforts. But at least the state invests and acts. Though much is nevertheless ending up in pockets originally not intended to be ending up in there.
As there is no touristic infrastructure, there are hardly any venues to go to and as in every Muslim country, the consumption of alcohol is almost a no-go here. But the situation is as in Turkey, Dubai or Morocco: it is possible to drink, but stay under-cover and don't mess up. Though in cited referenced countries it is a bit more open-minded than here.
When here, check in to the hotels "Saint George (le Djazair)" or the "Aurassee". Best atmosphere, best view and good gastronomy. But if local life is more interesting to you, check the hammams in the Medina/Casbah and go for a coffee or fish dishes onto the street.
Check the restaurants near the national tripod monument, but there is no difference in any respect to any western restaurant. And definitely walk around the places of the "Grande Post" … cafés, shops and life. Sit, lay back, watch and relax!
Good places to go eating out on the street is the Bouthiche on Rue Hassiba Benbouali during working days for lunch. Thereafter go to the café at the Rue de la Marina or Rue des Frères Saadi et Mokhtar Benhafidh: the Café de la Marina or, my favourite, the Tlemchami. Though please do not expect any luxury at all. Hang out here during the afternoon, stroll around and for dinner check "The Dolphin": local, tasty and full of interesting people.
Obviously, another option to dine is out at the Madraque, but the title of the best restaurant here changes in monthly intervals. For chilling definitely choose the Shazz Bar in Hydra right next to the Touareg restaurant.
I have decided to pick up Arabic after I will have finished my private projects back in Germany. And this decision is "grace à l'Algerie". I will in fact move for several months here, look for a job and get paid in Arabic teaching. Algerians really have reasons to be proud about their country.