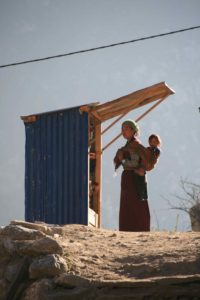 As I had broken my fibula in China and it is only six weeks later you are allowed to fully put your body weight on the leg again, I was in doubt, if I was able to go to Nepal. But dead-on six weeks had past and it was first day of the trip, and what can I say? I went, I hiked and it all went very well!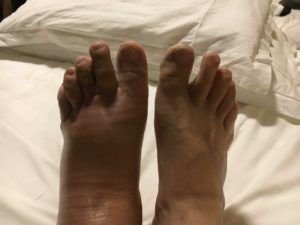 When travelling China I broke my fibula. 5th October just before the operation I was told, if the tendon between fibula and tibia had torn, I would not be able to put any weight on my leg for 6 weeks. But dead-on six weeks later my trek in Nepal was supposed to start. Luckily the tendon was not torn, so I was able to start "training" three weeks later. And the day of departure I put my crutches aside and went free-handed which I started with carrying a backpack weighing app. 20Kg's, flying out to London and mounting the 193 steps up in Covent Garden tube station.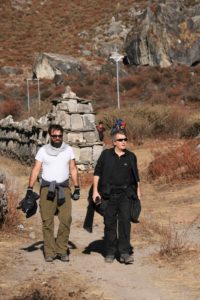 A few days later our group met in Dubai. For the first time ever I went in a group. For the first time I exposed myself to people and had to potentially submit to any group pressure or tension rising. I would have to compromise and submit in case of … I was not sure if and how I could handle as an egocentric traveller, because until now I always went on my own and was therefore able to keep my pace and rhythm as I wanted. But with Damian and Steve I had great trekking partners and it all went actually very well. We had big fun and I can hardly remember any moment I did not laugh my head of when all together.
When reaching Kathmandu and checking in at the Fairfield Mariott we decided to instantly hit the road checking out Thamel, the touristic centre of Kathmandu serving every Nepalese cliché you can imagine. Most striking are all these western weirdoes ridiculously dressing up in cotton clothing. They pretend being Nepalese and as if this is how the Nepalese dress, but actually I have not seen any of the locals dressing up as these chaps dallying around. Not one!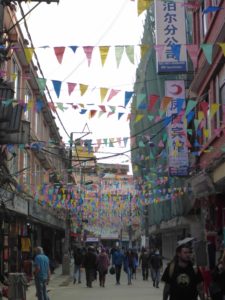 I like Kathmandu. A nice and easy place to be. Most fascinating and striking? Electrical overland wiring. I thought when I was in South America the wiring there was adventurous, but Kathmandu is much better. Hilarious. When looking at these oeuvre d'art with a European eye – it is just fascinating to realise, these things actually work out!
The earthquake in 2015 also hit Kathmandu, but I could hardly detect any damage. Though when visiting the main Hindu-temple and it's crematorium, there were a few smaller temples and prayer-rooms actually heavily hit. Big cracks in the walls and all looks quite dilapidated and not rebuilt since. And as much as this temple and it's sheer dimension is worth a visit, the Hindu-freaks sitting dressed and painted up funnily, shed a strange light of touristic trap. Not only do they look quite strange, it looks simply made up in order to attract tourists wanting to take pictures and willing to pay $5 each. Just check the number of photographers lining up to take their shot. And for the weirdos, I was told, the perform so not out of conviction, but as their business model to survive. Fair enough, but don't know what to really think about.
Being in Himalaya for the first time I was surprised and stunned by it's sheer size. I have seen a few mountain ranges already, but the Himalaya is huge. No doubt why they call it the roof of the world. When arriving we were sitting on a terrace of a restaurant in a town being the departure point to our trek. Opposite I looked at this mountain, which may not even have a name. And it was huge. Compared with the mountain opposite Claire's chalet in Chamonix, this here is huge and seriously impressive. And this the general impression wherever we were when tracking. It is all a "size bigger", 'un autre gabarit' as the French would call it. When approaching the Himalaya-range you can actually see the three national mountain ranges: the flat land in the south of Nepal, mountainous region following North and then the high mountains neighbouring the Chinese border with the highest mountains of the world.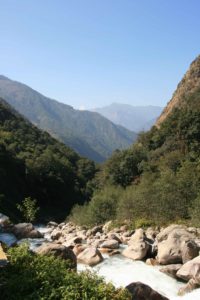 When the highest peak in the Alps is the Mt Blanc with 4-point-8-thousand something, being on that altitude in the Himalaya, this is still a children's playground. Here you have peaks higher than 7.000 metres standing around in midst of peaks reaching 4.-5.000 metres around.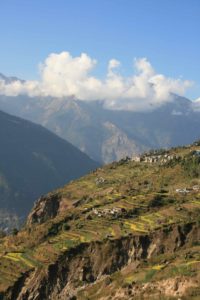 I seriously do not know which words to use in order to express my surprise and me being impressed by the size of the Himalaya. And I just went to do one trek so far. How will my impression and opinion be, once having made quite a few treks and having visited Tibet? On this trip I have decided to definitely visit the Himalaya a few more times. Amazing landscapes, impressive mountains and one of the most beautiful and courteous folks I ever got to know.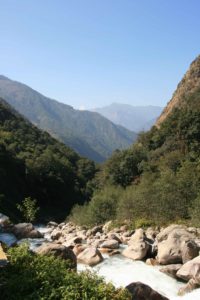 I definitely want to trek the Manaslu, maybe even hiking to the top. Let's see … I have booked this trip through Blue Planet Travel in Hamburg. I was amazed about the level of service and professionalism. Definitely worth the additional invest for their service. Yes of course, you can organize the trip and carry all stuff on your own. But booking tour organizers and Sherpa actually does give them something to work and hence an income. And with Blue Planet you actually get the best.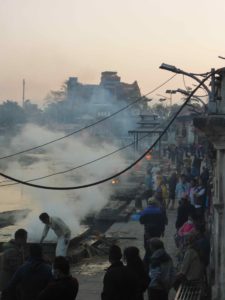 Other than the Himalaya we only visited Kathmandu. Walked around Thamel, visited the world's biggest Stupa and the Hindu temple. Kathmandu is the place to arrive in Nepal. It is worth staying a couple of days, and unless you love big cities, don't schedule for more, head straight to the mountains.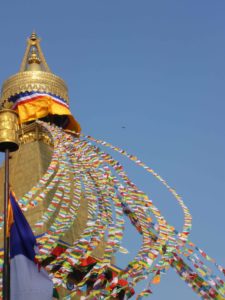 But if hanging out in town, we enjoyed our evenings out in the Bon Appetit Café on the corner of Chaksibari Marg and Paryatan Marg, the Gorkha Palace on Tridevi Sadak and for smoking my beloved Shisha and listening to live music in the Himalaya Mountain Club also on Tridevi Sadak.
Going Himalaya was a dream ever since to me. And now that I was there, it has become an even bigger dream to go there again. The mountains are just spectacular, and this is me saying after having seen nothing really