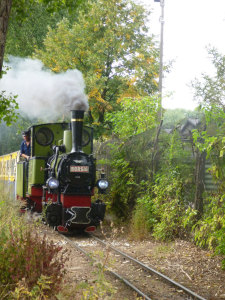 Toll roads in Poland – you better get the Via-toll! Did you know, Poland performs at least 2 ways of toll roads? I didn't and so it turned quite expensive. You better be aware.
Cruising through Poland you will be obliged to pay toll on a number of motorways. Taking a ticket and paying it off at both the beginning and the end of the payable stretch of the road. You manually grab the ticket, you pay cash at the end to a guy in his booth. So far so good.
But there are a few roads where the toll system is different. You will recognise them by the little orange signs not bigger than a beer stand at each beginning of a payable stretch. It is also signposted when you are crossing the borders coming into Poland. A little orange sing showing some kind of card and flurry lines indicating something like wireless radiation.
At one stage we were stopped and told, all vehicles exceeding 3.5 tons have to register and pre-pay for system called "Via-Toll". A little box stuck to the inside of your front window and being registered and debited for each kilometer with half a Zloty. When passing the toll roads you will regularly see find a construction communicating with your little box and debiting your account you had prepaid for the box. You notice by a little 'Beep' when passing underneath.
Checking our documents it turned quickly into a discussion of how to organise €750,– for the fine. Yes, seven hundred fifty! EUROS! It was said, this is the same amount for Polish as for foreigners, but for foreigners this amount has to be paid instantly and in cash. No credit card payment, no delay. On the spot. There was no room for negotiation, 'it is the law'. So no chance and we had to pay. The guys were right in saying not knowing does not give cover for not being fined. Noted.
But then starts is the most ridiculous and most typical bureaucratic bullshit I have ever experienced. Your fine is accompanied with a full description of your wrongdoing. 3 pages full of where, what etc. all being individually phrased and formulated. As if we are the odd one out and lawbreakers. There is no default text where they could basically copy-paste.
Come on folks, this is rubbish! Tell me what's up, charge the fine and confirm receipt of the funds. Forget this post-communist crap!
It took them 1 hour to phrase it all out, which to me in fact seems to be a most common situation. The taste of scam is in the air, but what do you want to do? If not willing or able to pay (and being a foreigner), your vehicle is towed away to a policed parking and kept until the fine is paid in cash. And these are the only 2 alternatives. Pay up or be towed away. You are not even allowed to move your car after having settled the fine and if only intention is to go to the next fuel station and get the Via-Toll sorted.
However, there comes the next issue: not every fuel station offers the service of Via-Toll. Not even on payable stretches. It took me the fourth station to stop to finally be able to sort this. All other before and even being situated on that stretch did not offer.
These private policemen were hardly able to speak English and I wonder how they manage with the number of foreigners not knowing about this matter but being fined, The taste of scam turns more concrete but indeed the fine was settled with all dues, paperwork and receipt of cash. They drove me to an ATM, as only cash and Zlotys are accepted. The ATM hands out a max of 1.000 Zlotys per card only. For security reasons. Then I was brought to a fuel station to get this toll-box, back to Hubert, finishing off. This last service, driving to the fuel station, was simply done because I was nice to them, which is not the rule. Otherwise you have to get yourself sorted with a taxi back and forth. So the whole story can easily turn out to cost €1.000.
After 2 1/2 hours all settled and the guys happy we did not yell at them, which seems to happen quite often, and we were able to move on. The road continues to be a toll road.
If at least the Polish state had the decency to build nice roads and then charge for. But this kind of additional tax collection is just too obvious: the state of the road is in shambles. And the administration does not even feel ashamed of raising toll for such roads.
Bumpy, full of potholes, passing through towns, crossing lights and much other things not making it a duly toll road, but just a scam. That is the real scam: hardly any publication, harsh fines and then a charge for roads, which can hardly be considered chargeable for. That is a shame. Definitely a point of consideration to come back or not.
And that is the moment you really feel scammed. But things are as they are. You have to pay, however bad the roads or whatever reason for to know have known about the whole matter or not. You pay.
So you better get the Via Toll, unless you vehicle is lighter than 3,5 tons.