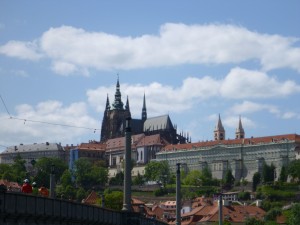 So here we go with my first bigger trip of the year. Cruising around East-Europe for 4 weeks. Big fun. I set off Saturday evening as usual for not losing time hanging out for nothing. 6.00 pm after having had my dinner with the family I set off towards Prague, even if only 730 kilometres. But no need for going all at once. I like to start such a trip the easy way.
I went right up to Würzburg. Bavaria. And when I stopped on the motorway I observed Bavarian policemen checking almost each and everybody stopping here. In no other places of Germany you observe such behaviour in such intensity. No comment.
I had my evening beer, brushed teeth, then dodo. Until 5H50 am, time to set off again. A jump-start behind the steering wheel and off to Prague. Only half way still to go since I did first half yesterday. This is really the best and most comfortable way to go. But with no coffee and no nothing … you have to really discipline yourself. But in the end, you win, as you arrive around midday at your destination
You check in, sort some stuff and then you still have enough time to check out town. I have been here a couple of times already, so no need for a fully blown touristy version, just hopping on my bicycle and cruise around town.
At the border you have to get your Czech toll-box and I really wonder, why people can not simply be friendly. I went into the shop asking for my toll box but was told in Czech, that I was not able to get it here, but had to go to another booth. But she just bragged about in Czech, not giving a toss I did not get a word. She may be annoyed me being no. 237 that day asking wrongly for such a box, but that is not my fault. She could remain friendly though, cant she?
Anyhow, got my box. Learnt my lesson in Poland. Btw, met in Austria a guy to whom happened the same in Poland. He made the same vow: Never ever Poland again. Full stop!
Finally I arrived in centre town. Despite my navigation frequently losing it's signal reception I got to the camping. I really like to stay on camping central town. They are not that much and you are next to everything. No need for any hassle for traffic.
And here we go again, there is always something to sort: I lost my screw to fix the stairs during driving periods. Blime. A silly screw but without difficult to continue. I would otherwise always look out for it to fall open. Big need to sort. Well, to take left curves at least. As spinning forces may force the steps to fall down when taking a sharp left turn.
But the more I cruise around with Hubert, the more I lose my fear of not being able sorting any upcoming technical issue with him. Of course I was annoyed, but decided to have a real Czech beer first. What the hell … Czech beer is just one of the best world-wide.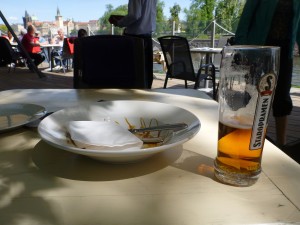 But cool I decided for that order of things, as whilst sipping my beer I had the idea how to fix it.
As for Prague, this is a really nice town. ´The setting is entirely medieval times with it's buildings and overall setting. Towers, cupolas, old facades, you really breathe the old times.
And of course you have to check out Charles's Bridge – but here is a tip: if you want to have it for your own, check it out very early in the morning. 6-ish. You will be on your own, you can really appreciate the architecture and setting with the morning sun. And then enough time for many beers with the castle in front.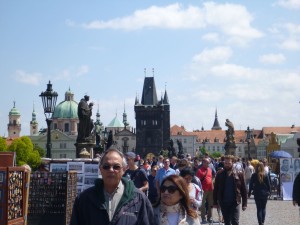 Obviously you have to walk around the old town, but in the end, just stay around here, enjoy the setting and have a good time with Staropramen. When you only have a few hours to pass, you have to set the priorities right