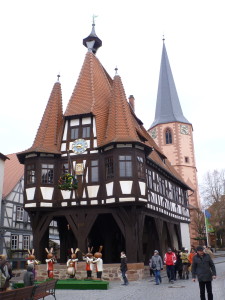 It is turning a tradition going for Easter to Michelstadt. A place you would normally never have the idea for going to, but it is a perfect start fort the year's travelling season. Not too far away for getting to and lots of things to do and see.
Winter is over, the first flowers are blossoming and time is ripe for leaving the winter castle getting out into the fresh.
The room is booked again, surrounded by lots of country trails and since my knee has been fully restored again (big thanks to Gesche) I am even more looking forward to the start of this season.
And call me old or whatever, but sipping a coffee next to Germany's oldest town hall has something …