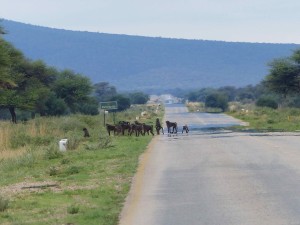 Cycling around a country almost as big as Germany and France combined but with hardly more than 3.000 kilometres of overland tarmac roads is not necessarily the first idea coming to your mind when thinking of how to stay in and travel around Namibia, but I opted for this alternative and had lots of fun.
Preparing to cycle Namibia
As usual my travel preparation did not take much of time. I started early December and checked for most important places to go, the general road infrastructure and best options where and how to stay overnight. You have to be and remain flexible, because you never know what really to expect and hence for what you have to prepare to reacting to. Most changes were due to the road infrastructure. This is something you have to experience locally and you can not really prepare for. Try 100 kilometres of gravel road and you know what I am talking about. Passing along such streets is no fun whatsoever!
Road infrastructure
In Namibia you find three major tarmac axes across the country: north-south starting at the Angolan border and going right through until the border to South Africa. Main roads off of this B1 to Swakopmund and Lüderitz (the 2nd and 3rd town after Windhoek), plus a few others here and there but basically turnoffs from the B1 too leading to tourist places, mining areas or other places of interest.
For cyclists these roads are easy to ride but please bear in mind, there is no hard shoulder. So you depend on two things: the awareness of the other drivers seeing you well in advance and no counter traffic when them overtaking you. As a matter of fact, they do overtake under any circumstance and the counter traffic is the decisive criteria how close they will be when overtaking. Specifically tricky it is, when a lorry is about to overtake, as his consideration is almost the same. Waiting for the counter traffic to have passed before starting to overtake you does not seem to be an option. Most of the time it was all right, as the overland traffic in such a vast country with little more than 2 million inhabitants is limited, though the little traffic there is is concentrated on these 3.000 kilometres of tarmac infrastructure.
Local traffic
Luckily traffic is smooth and organised compared to much of the rest of the African continent. Cars are in a good state and most different to the quality of those you see in Kenya, Senegal or basically any other African country apart from South Africa. In fact, I was more than surprised to find out, the quality of cars in Namibia is almost similar to those in many if not most European countries. In addition to this, and please excuse this, but all ethnic groups are driving all types and qualities of cars. Usually you find the rich in upper class cars and any other in rather 5th hand vehicles, but not so here! Basically no car at all prone to fail any European MOT … amazing!
The driving style is from 'respecting to street code' up to 'Dirty Harry on a suicide mission'. All seen! The speed limit is 120 Kmh, which many go, but the majority is going 140 and quicker. I do not have any issue with this, the problem though is, traffic from behind you only hear 2 seconds prior to them starting to overtake, but then and at such speed they are already next to you. So I was surprised and seriously shocked several times. In case you have the same idea and cruise around on a bicycle, please bear in mind, drivers don't actually have cyclists on their mind. There is no danger, but it seems cyclists is an almost never seen.
Cycling, what?
The reason for the quasi-inexistence of cyclists out in the desert is the distance from one town to another. I am tempted to say it is an average of 100 kilometres, but this is neither right nor wrong. Depending where you are it actually varies a lot. However, daily trips will easily be feasible you to reach next town to stay overnight, so don't be afraid. If you consider the average of 100 kilometres, you are faring well.
Baggage
Bearing this in mind, what is most important? Well, apart from a few exceptions, Namibia is rather flat. Some up and down stretches, but nothing really mountainous. So the issue are the distances you have to cover. And as it is generally hot, try to limit your luggage as much as possible with respect to its weight. I had 1½ one cycling outfits (2 padded underwear wearing at once!) and 2 private. Tool kit, spare tubes, valves, oil, little this, little that. A total of 13 kilos. Believe me – this was still too much!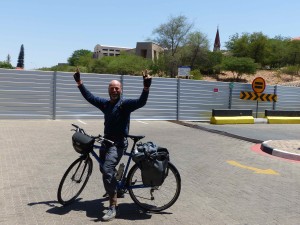 You wear your cycling gear as long as you want, as there is nobody around smelling you. Arrive in the B&B, ask for a bed, and if the answer is positive request to go instantly for a shower before doing the registration. As a consequence the receptionist does not complain you spoiling the air around here. In addition, jumping freshly showered into clothes keeps those clean for weeks!
Water supply:
Most delicate to handle are the provisions, as you have to cover large distances. My advice: 10 litres of water and 2-4 litres of apple juice mixed 50/50 with water. Due to the temperature you drink vast amounts, but downing 10 litres of water or more is not easy. Which is why the apple juice, to get once in a while some taste with the liquid your body is eagerly yearning for. And you need it. Also: prepare for not having a wee once during the day.
I had a camelback with me. Note: only fill pure water to avoid spoiling the muzzle due to sugar dried up. And due to the heat prepare to drink hot water after midday and later.
Food:
As for me, I don't eat too much, because when I do, all energy seems to be leaving my thighs and moving into the stomach and intestines. Therefore, in the mornings I did 30-40 kilometres first before I ate something. And then please look for contentious stuff: apples, cheese and some kabanossis, dried fruits and nuts (raw, not salted!), bread – these sorts of things. Beware: it gets so hot, the inside of your luggage is heating up melting the cheese.
Distances
As said above, the general average distance is somewhat 100 kilometres. Rule of thumb. Sometimes it is 180 (Otjiwarongo to Okahandja) as there is nothing in-between, sometimes 230 (Keetmanshoop to Marienthal), because there is something in-between, but unfortunately no B&B or the such like. So what I did is to follow the course of the sun: go to bed at sunset, wake up at sunrise. As most towns don't offer anything spectacular (Namibia is no backpacker's destination) this rota is easy to follow. In consequence when being on bike 6:15 am, and I dobetween 20-26 kmh, you easily reach next town by midday or early afternoon. But anyhow, on the road every 10-20 kilometres you will find a rest place nicely but simply arranged.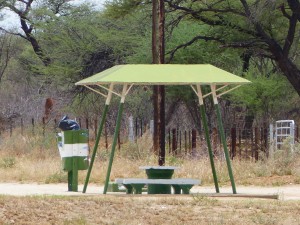 Accomodation
Everybody will tell you Namibia is an Eldorado for campers, and it actually is. But most of the campsites are at least 10 kilometres away from the road you will be passing by. Well, that was my situation at least. Unless you follow the gravel road (which I did not). So as wild camping is not my option I went from town to town and chose B&B's with pricing between €20-75 per night. Not a single B&B was bad.
In the beginning I had a tent, sleeping bag, mattress, towel and shower gel, which after half time I all left back in Windhoek. I did not use my tent once. Campsites were simply too off-track.
Unless you don't mind and work your way through. Which I did not, so I changed track and that is overall very unpleasant. Which is why after this experience I decided to stay on tarmac only. But, and I admit, hence camping was then definitely ruled out. In my opinion camping makes sense when caravanning or when being a hard-core cycler only. I do love a proper bed in the evening after a long ride.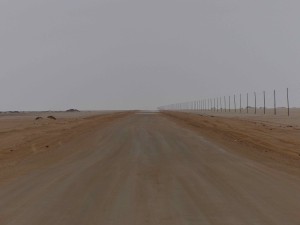 Gravel roads
Speaking off-track … I went from Henties to Khorixas on a gravel road. For the hard-core survival and I-don't-care-guy this may be the only way to really and purely see Namibia, but seriously speaking – IT IS NO FUN! I have no shock absorber for the weight's sake, so I felt every little bump, and as it is quite corrugated you feel and dive through each and every ripple. It is stony to sandy. Very awkward. Seriously. There are 3 double-tracks done randomly by cars in the course of the past. On a length of 20 metres one of the six is always easy to follow on, but thereafter it turns sour-nasty-sandy-whatever again and you have to change. Very annoying.
Anything else?
Well, Namibia is safe and clean. Don't expect the African raw-model type of country. You will see lots of barren land, deserts, and a rather lush fauna in the north and the desert in the south. I saw just a couple of typical tourist destinations: Deadvlei, the Fish River Canyon, the Giants Playground and the Quiver Tree Forest. All worth going, but "been there, done that" and that is it. As for the rest, I just enjoyed being on my own, cycling for hours across the country and being on my own.
Will I go again? Yes, but only when I am older and then maybe on an organised tour in combination with Botswana and South Africa. As of today, if I want to see elephants, I go into the zoo. I wanted to feel the loneliness and vastness of Namibia, and seeing this was a challenging and outstanding experience.