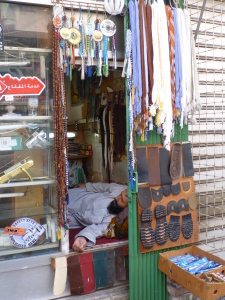 A place which was a fishing village just a few decades ago turned into an Eldorado for architects, into a global financial and business centre an, a hotspot for all kinds of activities and people. Dubai is offering unlimited possibilities to each and everyone but remains nevertheless one of the most cosmopolitan, thrilling, active and somehow tolerant places in the world under the condition you accept local habits and rules.When you arrive in Dubai you may be impressed by the airport and its' sheer dimensions but once you passed immigration and left the building you are hit by the hot weather. It is hot and when in combination with humidity you are simply knocked to the floor. It is 6:00 am and you wonder how it will be later during the day. At this moment you definitely realise, this is not the northern hemisphere, but right in the middle of the desert.
With a taxi you leave for your hotel and you pass through the financial district of downtown and the building lining up left and right are simply breath taking. That is of course if the cabdriver believes you have no local knowledge and is performing some extra turns in order to increase the bill.
Buildings of all sorts of height, shape and style. Shiny facades, remakes of the Gherkin and Big Ben, a jungle of highways coping with masses of cars, compound style residential areas and then the old town of Dubai – Bur Dubai.
All this is easy to enjoy whilst sitting in you air-conditioned car, and when stepping out at the front entrance of your hotel, then you are hit a second time. You wonder when you will get used to local weather, but trust, you never will.
The flight from Europe to Dubai takes four to five hours only, and with the change of time zone you can expect a short night and a kick-start into town and local life.
I am always puzzled to be addressed with "Sir!", but people are friendly and maybe this is my part not being English, that such way of being addressed to seems odd to me.
Check in at the hotel, have a short rest, but then definitely go into town. The new parts of town may thrill most visitors, but I love the old town, the real centre of interest to me: Bur Dubai. Between the fish market and the Creek it is buzzing with life and people. It seems, as if the town here never sleeps, but be here on a Friday. It is dead quiet, and anyway, police hour is at 3:00 am – the entire town comes to a standstill.
But the more you walk or cruise around, you miss any soul of a city. Something you feel anywhere else, in London, in New York, in Tokyo. It is simply missing here. Here is no history. In Bur Dubai you may have some, but as thousands of little trading companies have taken over the centre, this has been lost. It is despite all efforts a town built from scratch, the real-life experiment and version of Sin City.
Take the little passenger boats to cross the Creek, and you understand what I mean. You see old next to new, traditional next to modern, old-fashioned next to sophisticated.
During the week I am here for the Gitex, so I do not have the time to check out things privately, but when passing town back and forth in-between the hotel and the world-trade centre you get an idea about town. And whenever being amazed, just remember it was a fishing-village not long ago, and you may be even more. The municipality runs the LA-style traffic idea: more cars need more highways, and as more highways can contain and cope with more cars, there are eventually more, resulting in even more highways being built. Low fuel prices do certainly not help to limit any number of private cars on the street.
3-stack fly-overs, an enormous number of lanes competing with Moscow's' roads and massive round-abouts are the current result – and much more still under construction.
But there is one Dubai "thingy", which really puzzles me: the green-phases of lights at a street crossing. Each direction hitting the light has anti- or clockwise it's green phases for minutes. That means all others waiting for up to several minutes until it's their turn. You cannot imagine the number of cars piling up on main road during peak time and direction city centre. "Impressive"! Specially when you find out and it's your turn, they all have the time to cross at next green phase. Regardless how far away from the light you were awaiting for your turn.
I was always impressed with the number of nationalities co-existing but with no actual problem – at least not for the visitor watching from the outside. Indians and Pakistanis being able to live together is the best describing aspect for a peaceful town offering all different sorts and backgrounds of people a possibility to live and make a living.
Obviously and under current working legislation it was all too easy especially for Westerners to settle down in Dubai, find a job and make a living. Specifically once Dubai really started to rock the global market and turning more and more into an important global hub for anything. But with the recent financial crisis I wonder how many people had to leave again, as the domestic economy is not self-sufficient and with the global crisis hitting hard, many had to leave after 4 months. You can hardly stay longer if no job or enough money at hand.
All comes at a price and it is a big gamble. People from south-east Asia flock in in their thousands to become servant to the system. And the rules are straight and simple. Being prohibited to gain any ownership, being denied the possibility to marry a local and simply doomed to hard working it is all they can expect. You are serving the system that lives of the wealth by oil revenues. The Sheikh, smiling from each corner and inside any office, did well in using the funds for creating modern Dubai, following the Norwegian idea, and hence preserving any prosperous future once the oil boom is over. But they are like working bees to prepare the ground for the world's elite to party and move on in life as if nothing comes at a cost.
You can party, drink and dance until 3:00 am, if you have the money. You can chill in outside-areas being air-conditioned. You can stun and gaze at many facets of a worlds' metropolis in all its' forms, but you always have to remember the price. It is not the locals doing it, it's a small fraction of the country's' wealthy deciding the direction and letting people turning it into reality. Locals do not need to work, are offered a for-free-health care system and a kind of paradise to live in.
There is the inner circle who does not consider the outside, and the outside people knowing they will never reach inside. Regardless any success you may achieve. You will always remain the foreigner. And living at the mercy of UAE-nationals. But let's be fair, don't mess around and they'll let you do.
But on the other side this town offers to millions of people the possibility to support family in their home-countries and support with proceedings they earn here. It is an active form of support to the poor. Speaking to some, they are working 7 days a week, 12 hours a day – but they are happy. They have a job which they won't have at home. They support their family back home and are able to build their future, which otherwise in their country would not be possible. And going home every 10-11 months for a few weeks can be considered 'little', but otherwise and elsewhere their life bears little chance and possibilities to survive.
So eventually you may consider Dubai a town of decadency with style but it remains a boomtown which has not reached its' limits yet. With the last crisis many projects came to a halt, just remember 'The World" project. But Dubai will continue to prosper and remain a considerable challenger to many in many fields.
And apart from all despicable developments, it is a place of secure life conditions, enormous prospects and a place you can actually live the American dream. Work hard but never underestimate local inhibits.
There are 2 places I just love to be and which cannot be more different from each other. Both represent the 2 extremes of Dubai: go out for dinner on the fish market. For the people working there, there is a canteen at the exit of the fruit market towards the bus station. It can not be fresher, more local, more 'in town'. Just around the corner a tea bar. Nothing posh, but this is the local life. And then grab a cab and sip an espresso in a bar at Burj Khalifa. I just love this sequel. It cannot be more extreme, schizophrenic or thrilling.
Dubai is and remains a town in line with the other 20 or so world metropolis! But like Berlin, give it 20-odd more years and it will have developed its soul.