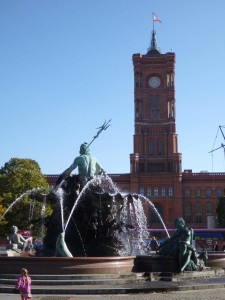 So many things have been written about this town, which represents one of the most thrilling histories of a metropolis in the world. But hey, I was here so a comment needs to be posted!
Berlin, another a city in the past I was never really attracted to going to. I had no friend living here, none of my family, well nobody really. And when I was here, I had to go for business or the some other kind of occasion and it always remained a quick rush through town. And I never had or took the time to check it out. When I travelled through the city because going to Poland or to Schöneberg airport, the architecture of the city and what I saw did not impress me with beauty, to be honest.
Though the weekend after the wall came down I was in Berlin and experienced the hype of the moment. I was also attending the Love-Parade when it hit the 1 million attendees for the first time ever. But seriously I never really took the time to check out town.
Though it is obvious and clear to me, Berlin is very special to any other world-metropolis, when checking out it's history, listening to people or reading articles abound. Berlin is one of the global cultural centres and for artists of all kind this is the place to be right now.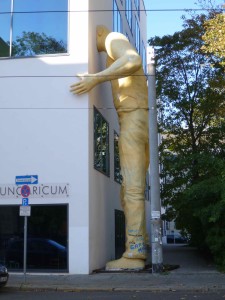 I my opinion there are 5 major towns in Europe: London, Paris, Moscow, Istanbul and Berlin. These are the trendsetting places, and there may be a total of 20-25 worldwide. Berlin is definitely one of them. And this trip and my visit to it these days has proven it right to be.
We took a hotel next to Kurfürstendamm, The Abba. We read somewhere all major hotel chains run an outlet in Berlin now, and so does the Abba. But it is in fact a purely Spanish chain, with one international outlet: the one in Berlin! That speaks for itself. Everybody wants to be present here. Here is the pulse of our times; here is the place to be. London, New York, Tokyo – outworn places. I am not saying, they are out of date, but the real hype is here!
Clearly, for eating there are a lot of places around, so I will not even dare to propose something, but around Kurfürstendamm there are three places I'd like to tell about: a bar called "Klo", the 'loo' … funny interior and the staff is creating a good atmosphere by all kinds of silly things. Moving puppets, animation by talking to people, floppy chairs. But all in all and in case you are not too fussy or conservative, it is a good but also quite costly thing to go to an more than the average option for starting the evening.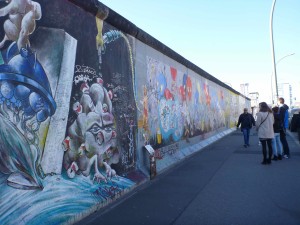 In Bleibreu Strasse you will find "Spätzle". A really good alternative of yummy food at a low cost. We went here 3 times, had each time something different and were never deceived. And an evening for four with food and drinks and all happy, satisfied and filled up for 45 Euros! Definitely not expected around this area and close to one of Berlin's Rodeo Drives.
And if all this hotchpotch stuff is nothing for you … check out "Currywurst 36" at the entrance of Bahnhof Zoo. A typical German sausage! Inexpensive, efficient and next to the train station, which you take anyhow to go anywhere once the snack finished. And if you are not too much 'Currywurst', just stroll around and find global options from Döner Kebab to Asian finger food to Donuts. Check it out.
And somewhere completely different, next to Kottbusser Tor subway station you will find Burgermeister. Burgers and fries, hand made and a quality alternative to McDonalds. Handmade fries – really cool!
In Berlin we ran around a lot and were impressed with the architectural development over the last 25 years. Though much is still under construction, nothing remembers there could have been a wall earlier, apart from a cobbled string of stones crossing the town.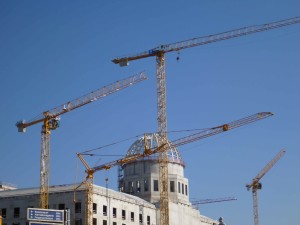 We checked all major tourist sights. Who would not be impressed and sincerely speaking, sights here or in London or … there is no real difference anyway. Every big town has it's individual sight but the way the towns function is a universal principle.
The Schlosspark Theater I would like to mention. A theatre with an illustrious history and a wobbly financial past over the last 15 years. It was run quite down until 2006, when a famous German actor took over directorship and rebuilt it. Not only it's construction, but also by the way of running it and the playing schedule. From theatre to music all on offer, and seriously not hitting mainstream. A small place and a very homey atmosphere. Students working all over the place with appropriate pricing and no posh behaviour. We watched "Amadeus", a quite progressive play in all aspects. Though, and this is what I liked most, they dismissed all shocking elements most artists use and apply, just to attract attention. Too simple. Hopefully this theatre will maintain it's financial situation and survive the modern hype and turns to become an integral part of Berlin for a long time to come.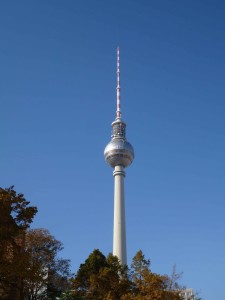 So Berlin, despite seeing almost what every weekend tourist sees, is a real discovery to me. I will have to come back, and then really dive into it. Kreuzberg, the Spreewald and the outskirts. All a good reason to explore and check out more thoroughly.