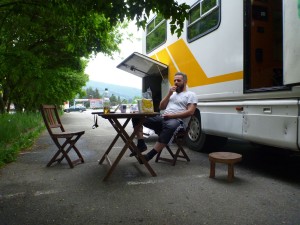 I have to get myself prepared for the Elbrus. That is my next physical challenge to attack.
I have to get myself ready and fit. I was physically quite all right a couple of weeks ago until I started partying, but now I have to get myself back on track. So at 6.00 am jogging. Nothing long, nothing far, just to get started again. It took me a while to get up in bed, putting my shoes on and just run off, but once you've left, it is ok, You have to get your acts together. And that is quite a thing after such a break.
I cannot be proud about the distance run down, but at least a start.
Quite fresh after such a long night full of sleep and we went for our first meeting. Now we learn again, the capability to be flexible is utmost important. At 9.00 am when we turned up, he had no time, so we were postponed for 10.30. At 10.30 we were postponed again for 11.30 and only given a 30 minutes slot. Good for us, because the next meeting was arranged for 12.00.
We ran down our sales pitch in 10 minutes, let him present his company in a short period of time with all relevant info for us to know. The range of products where we can co-operate was defined, what will be next action to do, how to move forward when we returned to office.
At 11.54 I went to their reception, asked the lady to get us a taxi and we had left this place spot on midday after 30 minutes. Our person of contact was quite impressed. We were given 30 minutes, took exactly 30 minutes, exchanged all what needs to be exchanged during such a meeting and have done our share to have left when we were supposed to be left.
The second meeting was also good and it seems to bear good potential for a future partnership. We went for a nice Cuban lunch and it is amazing how many people don't apply the habit, the local pays the bill. Never mind, it is as it is. The amount was absolutely negligible and if in the end he turns a customer, it was worth is and then just forget the custom.
Both meetings turned into really interesting prospects and the day was almost done. Just a ride to Ostrava to come. We decided to have the night over in another town with no name, but unfortunately the camping was closed. The guy there tried to help us with another camping he knew, but could not find the address. When after 5 minutes of research I asked him for solution he proposed to stay the night opposite here on the other side in an official place for caravans. I wonder why he was trying to get us into the other camping when the solution was in fact so close?!
We arranged for the night, but because of our 13-hour nap the night before were not tired at all. So in the end we actually went for Ostrava. Cruising through a beautiful landscape. It seems to me this is the place to go for skiing. Really really nice. I was looking forward to do some jogging next morning, but it came differently.
In Ostrava we found a parking place dedicated for lorries. That was our place to be. And then off for a beer. We found a nice place in centre town where we downed a few beers. This year I fared better: I took 2 bicycles with me. Good decision. You are very flexible to get to your evening beer wherever you are.